Drawing and Printmaking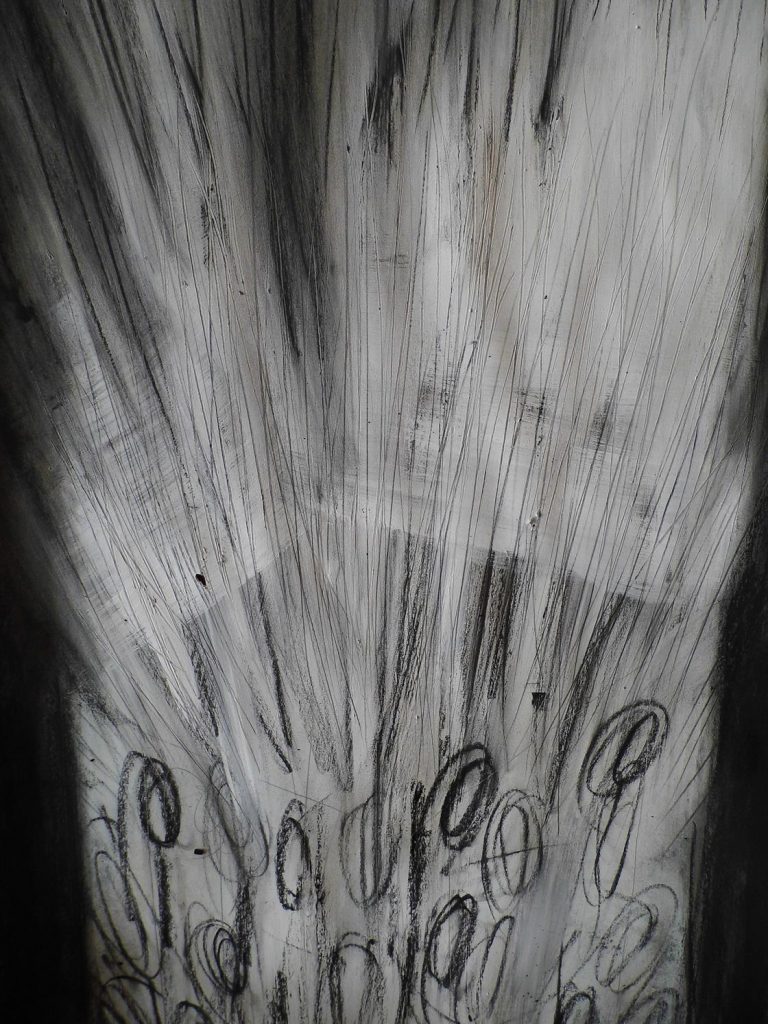 Untitled #1
Section #1
Drawing interpretation of stage set description given by young people involved in the National Theatre Connections Festival (see below)
Charcoal on Lining Paper
2014
Untitled #1
Section #2
Drawing interpretation of stage set description given by young people involved in the National Theatre Connections Festival (see below)
Charcoal on Lining Paper
2014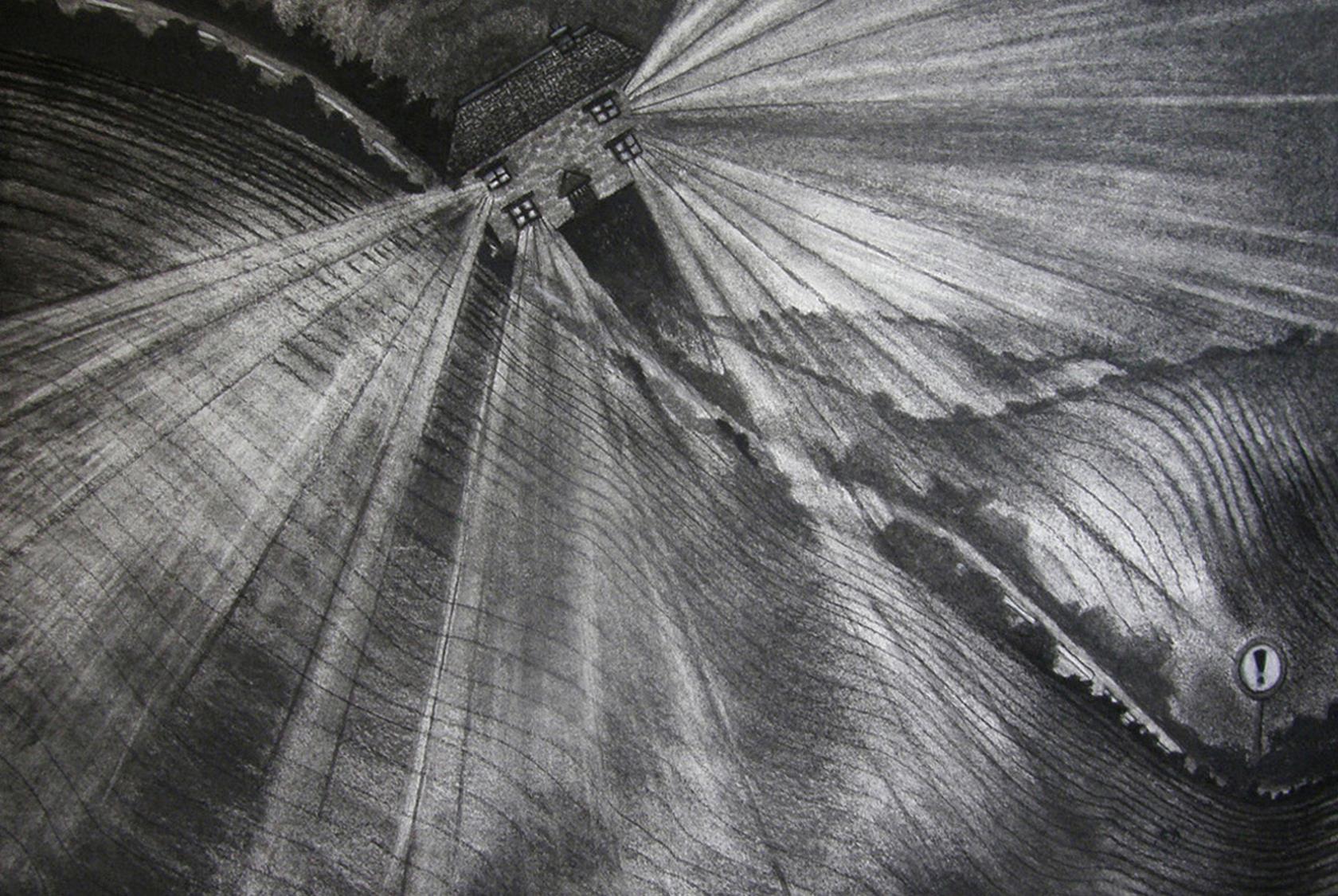 Hidden Dip
Charcoal on Fabriano
2009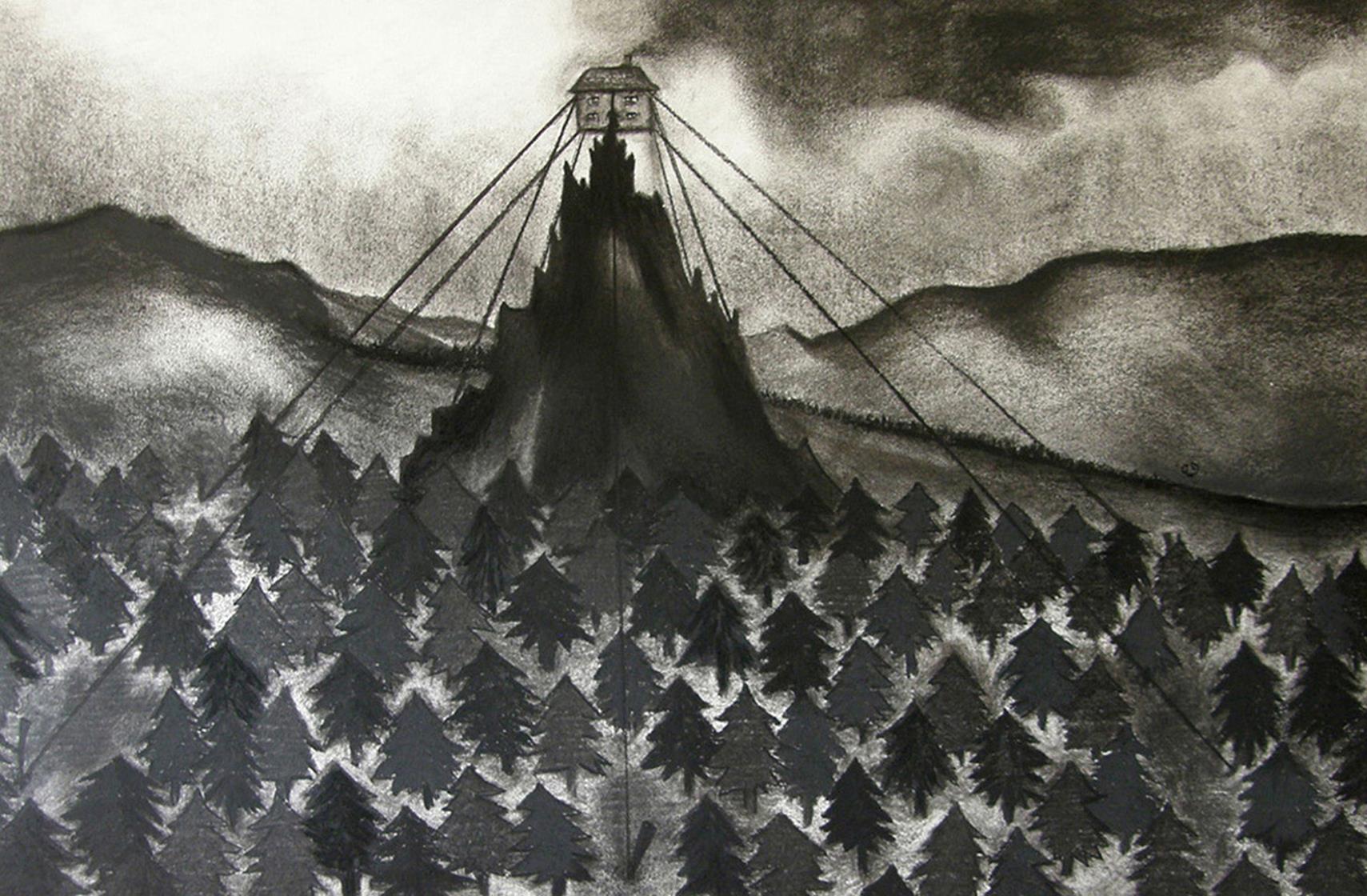 Army of Me
Charcoal on Fabriano
2009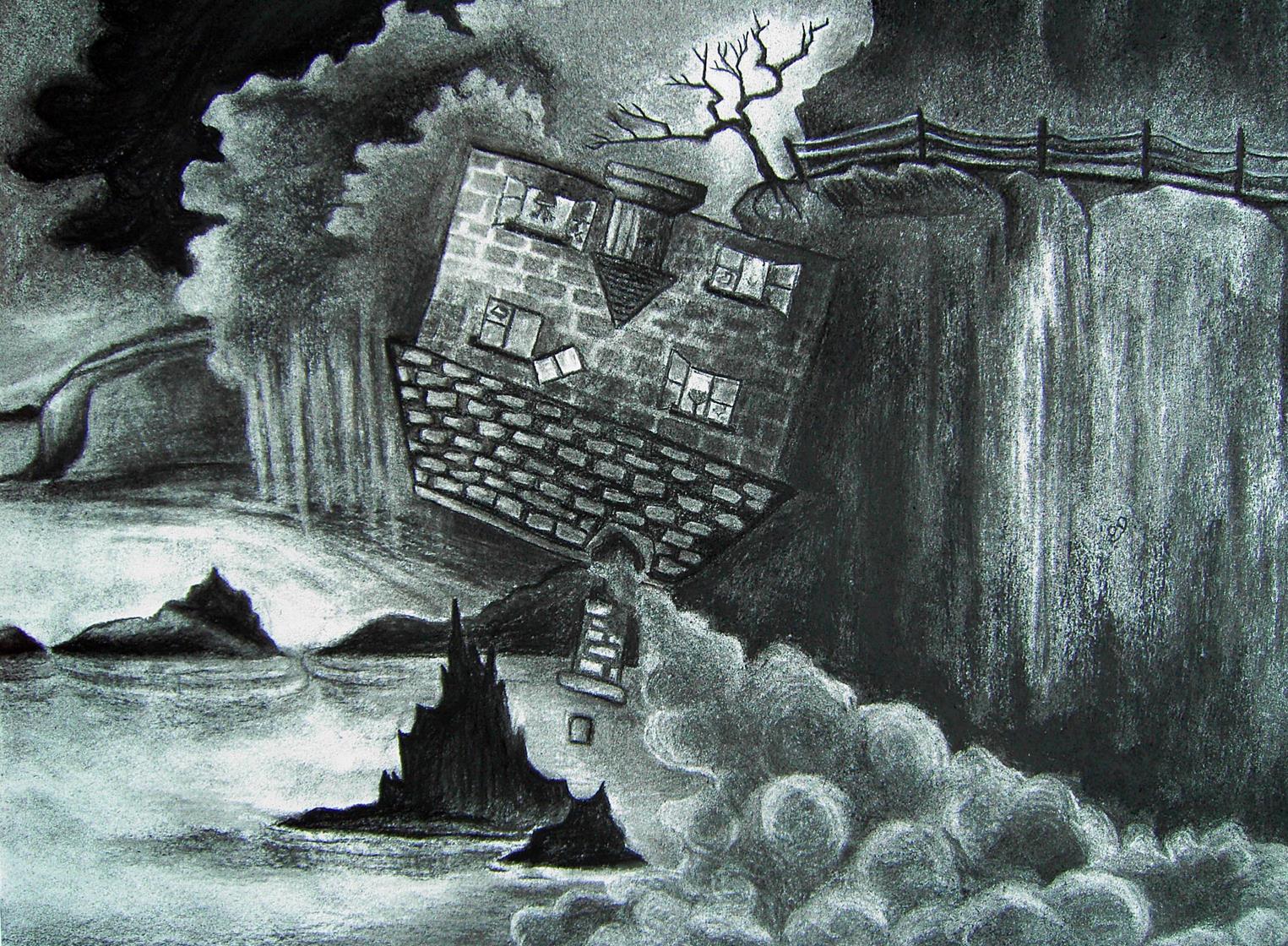 Erosion
Charcoal on Fabriano
2009
Moonrings and Ripples on the Sea – Monoprint – 2009
Spring, 1940
Monoprint on T Towel
Narrative work depicting lives of my maternal and paternal grandmothers during the 2nd World War. In the spring of 1940, my Welsh paternal grandmother 'Nain' was at school in Wales (pictured) while my maternal grandmother was working in Finsbury Circus as a payroll clerk for the army. Each side of the T Towel depicts an imaginary afternoon.
2011
Live Drawing at the 'Pit Firing – Wild Sharing' Event held at Fermynwoods Contemporary Art with Ceramicist Nita Nathwani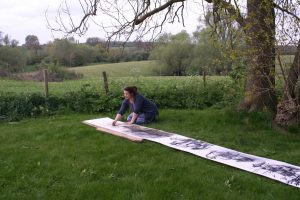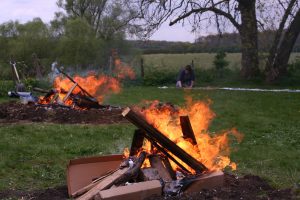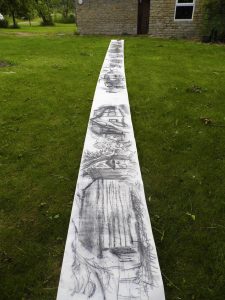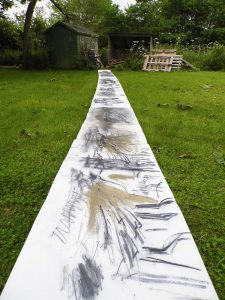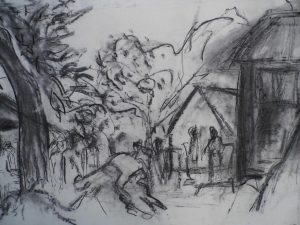 Charcoal (made at Fermynwoods) on Wallpaper
2017

Photo Credits
Live Drawing: thanks to Nita Nathwani, Sophie Cullinan and Clare Abbatt.
Live Drawing and Performance at the 'Afterlives' workshop at Fermynwoods Contemporary Art, with Helen Stratford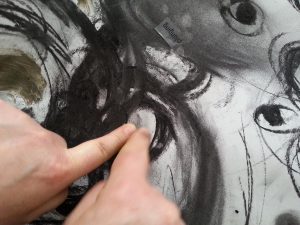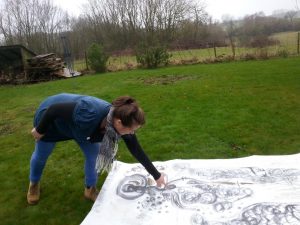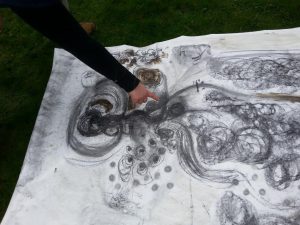 'Tracing Days'
Charcoal and stickers on paper
Performance
Fermynwoods Contemporary Art, 31st March, 2018
The drawing began as an instinctual response to our investigations on the day of our relationship to this particular environment -Sudborough Green Lodge, Fermynwoods' centre for Education and Research and how we would map this relationship. Some participants had only established a relationship that day, whereas mine had developed over the last six years. Sudborough Green Lodge is embedded within my psyche, I have a deep and profound bond with this unique and special place.
The drawing grew out from an epicentre. In my mind, this was the kitchen. I began to trace the rhythm, the repetitive movements that I make each time I am there on a Thursday and Friday. On these days I am with our students, who are on our Alternative Education programme. My movements extend out from the kitchen, into the workroom, out to the garden, into the marquee, around the cottage, into the woods, up the track and along the road back home. Narratives of past events informed my marks, and created pockets of focus as the map began to expand across the paper.
We were to each present our work. There was no other way to do this other than as a performance. I took the drawing outside into the rain, which was collecting into pools within the pockets of charcoal. What happened next was a stream of consciousness, an out pouring, a confessional, as I guided this most intimate of audiences around a map of one of my most intimate of relationships.
This performance was not filmed or recorded. Afterwards, the drawing was taken inside and burned in the fire.
Photo Credits: Jessica Harby and Helen Stratford