News
Feb 2021
During May 2020, I was extremely grateful to receive an Emergency Response Fund from the Arts Council during the Covid-19 pandemic, 2020. This provided much needed finances at the time to help pay for the rent on my home and studio.
It also helped to purchase a Zoom H5 Handy Recorder, bought to explore my growing interest in sound works and how soundscapes and spoken word can interact with and complement my work in visual forms. Unfortunately due to logistical conditions caused by the pandemic, I didn't receive the Zoom recorder until a number of months later. By which time, work opportunities had improved as we had all moved online to deliver workshops.
But I'm happy to report that I've been exploring it's potential and am excited to be developing new work.
February 2020
'Drawing on Dorset' books are now available to buy at £15.00. A beautiful book which contains drawings that are based in Dorset, of Dorset or about Dorset. The book is based on a touring exhibition curated by Dorset Visual Arts and features work selected by a jury, including Anita Taylor.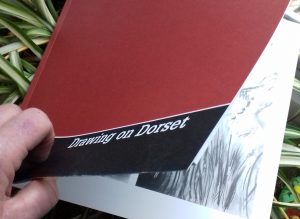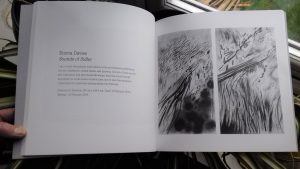 The book features my work 'Sounds of Sidhe', two time based sound drawings.
To order a book, please contact me via the contact form.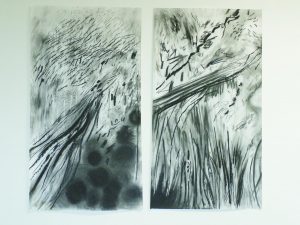 November 2019
Free Exchange 'Art + Psychogeography'   12th November 2019
Over the last year I have curated and chaired a series of discussion events called 'Free Exchange' for Fermynwoods Contemporary Art. All events come with the title Art + (a subject) and sees two speakers (an artist and a specialist) discuss the theme in front of an audience.  For this iteration the theme was Art + Psychogeography and the speakers were Kate Genever (artist and farmer) and Carole Wright (community walker). Up until this point, the Free Exchanges have been held seated within one location, however this time, it involved a night time walk in the light of a full moon, inspired by a suggestion by Kate Genever. Very much an experiment, it was exciting, full of depth but technically challenging. However, at Fermynwoods Contemporary Art, it has wetted our appetite. So, this is to be continued……
Meanwhile, you can watch 'Art + Psychogeography' here.
October 2019
Workshop at NN Contemporary Art, 2nd November 2019
On Saturday 2nd November, 11am – 1pm, I'll be running a workshop called 'Friendly Houses' suitable for children and families, children aged 8 and over at NN Contemporary Art.
What does it mean to live environmentally friendly lives? And how could we be living in the future?
NN Contemporary Art's current exhibition is 'Promise and Ruin' by Jonathan Alibone. Using Jonathan's paintings as a starting point, we'll be designing and making fantasy homes that embrace sustainable living with using only cardboard, found, scrap and minimal new materials.
Anything goes as long, as the homes are kind to the earth. Think yurts, house boats, geodomes, roof gardens, communal living, city dwellings and compost toilets, water recycling and home grown food.
Please bring old cardboard boxes, found and scrap materials. Constructing materials will be provided.
To book a place please contact me here.
October 2019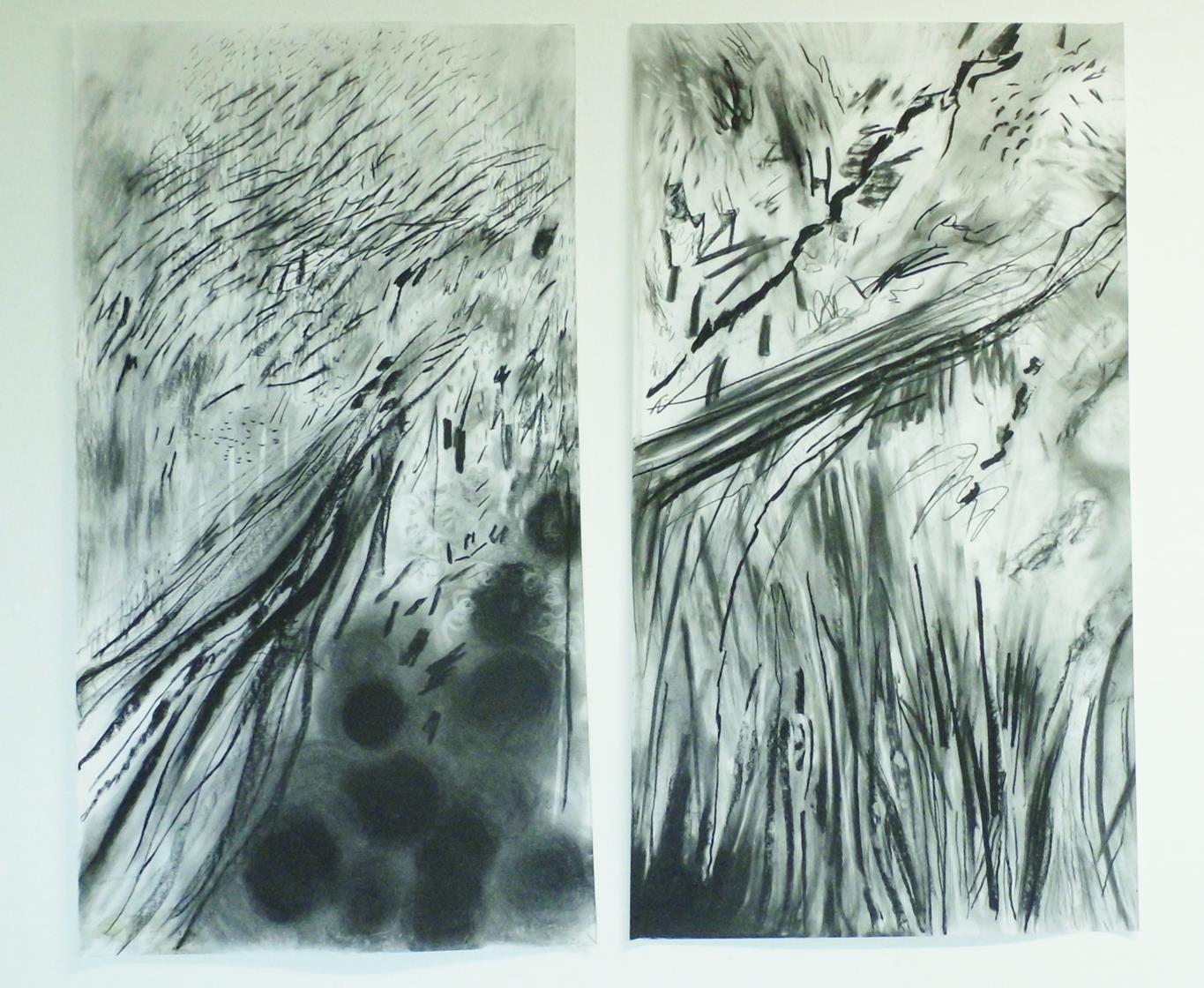 'Sounds of Sidhe' is now showing at The Slade Centre in Gillingham, part of the Drawing on Dorset touring exhibition.
September 2019
'Sounds of Sidhe' is now showing at The Lighthouse Gallery in Poole, part of the Drawing on Dorset touring exhibition.
July 2019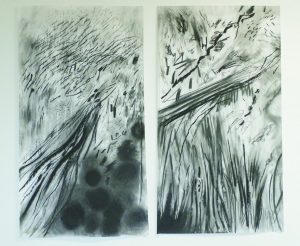 From the 5th- 17th July, I exhibited a diptych 'Sounds of Sidhe' at the Fine Foundation Gallery, Durlston Castle, Swanage as part of the Drawing on Dorset exhibition. This was a selected show, featuring artists from across the country, who all had a connection to Dorset. The show was conceived and curated by Dorset Visual Arts.
The exhibition explored current themes, trends, and innovations in contemporary drawing practices and  that interrogated the boundaries of what drawing is and can be – drawing in all its possibilities.
The selection panel included:
Tania Kovats – Artist and Professor of Drawing at Bath Spa University
Deborah Harty – Artist – Researcher
Tim Knowles – Artist – Curator
Professor Anita Taylor – Executive Dean of Bath School of Art and Design and founding Director of the Trinity Buoy Wharf Drawing Prize
A publication accompanied the show, which included written contributions contextualising the selection and reflecting new thinking about drawing, with a foreword by Professor Anita Taylor.
To order the publication, please get in touch via the contact page. It is priced at £15.00
May 2019
After a very successful exhibition at NN Contemporary Art, Artists in Residence at C2C will be at University of Northampton on 11th June, 4pm – 6pm, for an event hosted by the RSA. 
We will be presenting our work from the residency and also, via a panel discussion, discussing our experiences  and reflecting more widely on the role of the arts in civic society.
The event is free, but attendees need to book a place.
April 2019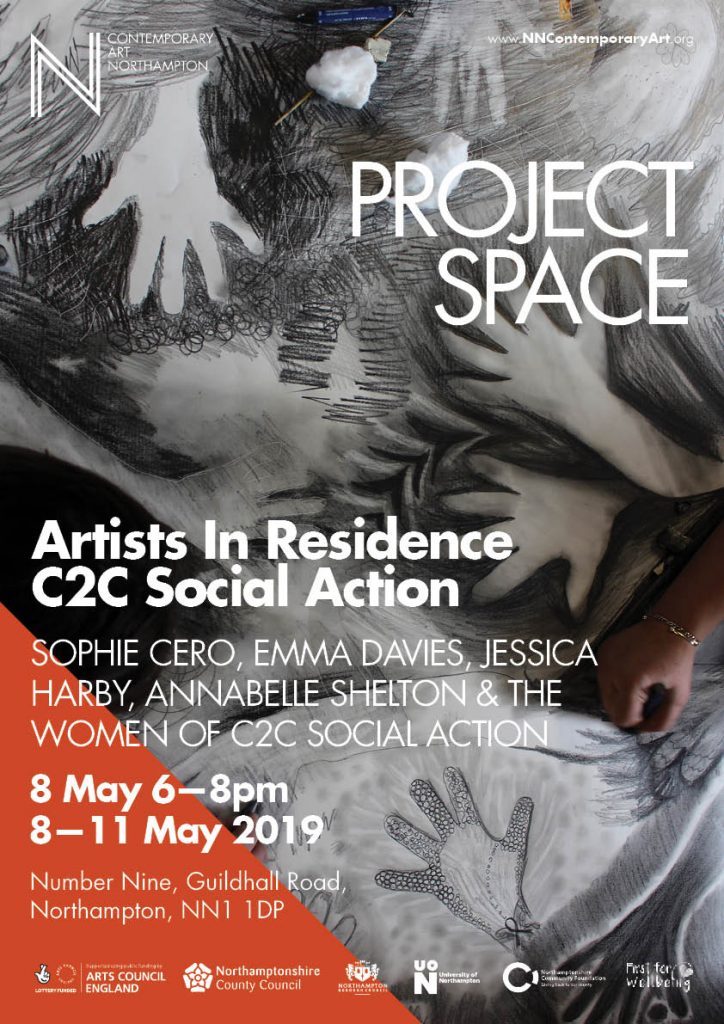 From 8th May until the 11th May, I will be showing new work that has been directly inspired by this residency, alongside work by fellow artists, Sophie Cero, Jessica Harby and Annabelle Shelton and by the women from C2C Social Action, who we have been working with over the last 3 months.
The exhibition is at the Project Space at NN Contemporary Art and is open from 11am – 6pm Weds – Friday and 11am – 4pm Saturday 11th. The Private View is on Wednesday 8th from 4pm – 6pm.
April 2019
In April's CVAN EM's newsletter, I was featured as a 'Re- Meet the Artist', which was a follow up interview to my 'Meet the Artist' feature in 2017. Writing it proved to be a useful exercise: 'It's been useful to reflect on what I wrote then, to reflect on the view I had on my practice as it stood at the time. Meet the Artist also serves as a marker in time, a flag that fixes points within an artist's life that delineate key junctures.'
January 2019
This month sees the start of a brand new project, funded by The Arts Council, lasting three months and with three other artists Sophie Cullinan, Jessica Harby and Annabelle Shelton. The project is called Artists in Residence at C2C Social Action and was set up by Sally Sheinman. We'll be working and collaborating with a group of vulnerable women to experiment with materials and ideas. As we support the women in creating exciting works of contemporary art, as artists, we too will create new work inspired by the project. To celebrate the end of thee project, as a whole group,  we'll show a selection of the work produced in two exhibitions; dates and venues tbc.
December 2018
I am delighted to announce that I was nominated for and have been accepted as a Fellow of the Royal Society of the Arts (Royal Society for the encouragement of Arts, Manufactures and Commerce) The RSA's mission is to enrich society through ideas and action. With a global network of 29,000 fellows, I look forward to developing links, learn from specialists with interests ranging from the Circular Economy to Youth Engagement and setting up projects and helping with research.
I was nominated due to my work as the Education Curator for Fermynwoods Contemporary Art. As young people grow up in an increasingly destabilising world, I am passionate about inspiring them through creativity to have self belief, find their own voice and to gain the confidence to engage with society and fight for a healthier and happier world.
April 2018
On 19th April at CVAN EM's annual event, this year titled 'Another World is Possible', I was invited to contribute towards the event with something that explored the theme of risk taking. Unable to attend in person, I devised a worksheet for artists called 'Risk Assessment'. 'Risk Assessment' asks artists to plot both their personal lives and art career/ professions onto a diagram that helps to ascertain how risky or safe their approach is in these areas. It seeks to ask questions of the individual about risk taking; for example does safety in ones personal life provide a firm grounding that enables experimentation in art practice and direction? Or is an individuals career 'stuck' and are a few risky moves needed to invigorate it?
Copies of Risk Assessment are available as a PDF below or can be posted for a small charge.
October 2017
I'm excited to announce that I have been selected to take part in this years AA2A scheme at De Montfort University. This is an artist in residence scheme for practicing artists. I graduated from De Montfort in 1993 and it is brilliant to be back. For the residency, I will be working on 'You Can't Shake Hands with a Clenched Fist' and will be developing a series of screen print protest posters; a set of letter stamps to enable the process of participatory printmaking; placards and possibly – installation furniture and a soundscape. Ambitions are high, but am prepared for time to limit the wish list. You can read a blog about my experiences and development of work here.
August 2017
I am delighted to announce that I have received Arts Council England Lottery Funding to deliver 'Living Lines': an all day Big Draw Event, in Geddington, Northamptonshire.
July 2017
From 2nd to 5th August, 11am – 6pm, I will be back in the Project Space at NN Contemporary Art with my new project 'You Can't Shake Hands With A Clenched Fist'. This is a public participation project, so help is needed to make this happen.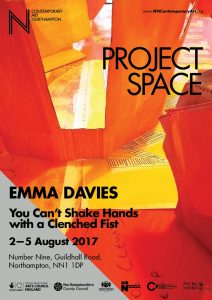 'You Can't Shake Hands with a Clenched Fist' was a statement made by Prime Minister Indira Gandhi when discussing the wish to avoid war 'at all costs'. She saw the importance of discussion over and above fighting to settle differences.
We live in an unsettling age, balancing on a precipice. In England, the Education system is undergoing yet more changes, and fast becoming a learning environment unsuitable for many, with the arts being sidelined and pushed out of the curriculum. Academia versus creativity. Scheduling and exams versus independent thought and exploration. Globally, capitalism is under serious question as the divide between rich and poor continues to escalate, yet a universal financial overhaul seems like a utopian dream. The whole world is under threat of climate change, that, I believe, has been caused by industrialisation and western extravagance, but there are many, scientists included, who think that Climate Change is a non issue. We have come a long way in accepting each others differences such as race, religion, gender, sexuality and neuro-diversity, but we are not there yet – not by a long shot. Opposing voices shout at and over each other, each convinced of their own truth. Amongst our peers we struggle to find the courage to voice an alternative opinion for fear of being questioned, doubted or ostracised. But if we listened and refused to be blind-sighted by our own ego's, then we may just be able to reach some common ground and learn from each other.
'You Can't Shake Hands With A Clenched Fist' will be a safe place to tell me what you think. I will listen – as we don't do enough of that these days. Then, these conversations, ideas, thoughts and feelings, I'll transcribe through live writing onto wallpaper and participants are welcome to convert into posters, make into colourful symbols and shapes, helping to create an immersive installation that captures a diversity of opinion.
However, it won't be a case of 'anything goes'. Anything that incites or is disrespectful will not be included.
Nina Simone said that it is 'an artist's duty to reflect the times'. These words are beginning to resonate: more often, I should use my platform as an artist to engage, communicate with and even challenge the public.
March 2017
This month I am very proud to be the East Midlands Contemporary Art Network's 'Meet the Artist'. Elizabeth Hawley, the co-ordinator of CVAN EM, interviewed me at the beginning of this month. In the interview, I discuss 'The Lost Years', what has made me who I am and the type of artist I am today, artists as polymaths, inspirations and the development of my work. For one week only (Mon 27th March to Sun 2nd April), I am also taking over their Instagram account, in which you can track my day to day movements and activities.
February 2017
I was so chuffed to have been shortlisted for the Creative Climate Change Leadership Course, held in Wales, co facilitated by Julie's Bicycle (UK) and Pina (Slovenia). I didn't get selected in the end, but my engagement in the process has established fantastic new contacts and kick started my passion and commitment in adopting a focused environmental strategy within my practice and work with organisations. Over the coming months I will be developing an Environmental Policy, which will be available on this website.
Among the shortlisted applicants, I was in great company. In total, one hundred and eight applications were sent in, so to be shortlisted was a great honour, especially as applicants were from all around the world and included fashion houses and theatres. The map of applications can be seen here.
November 2016
On Saturday 22nd October I took part in Swarm Sculptures at NN Contemporary Art. This was a durational movement installation devised and choreographed by Lucy Suggate and supported by Dance 4. The piece has been on tour to places including Bonn, Paris, Nottingham and Leicester.
For the run up to the performance I attended three rehearsals. We had a small group of performers as opposed to larger groups who have taken part at other venues. Although the original vision was for a large group of people to be swarming, as a participant I thrived on the intimacy and close working relationship that developed with other participants through the course of rehearsals and the day long performance (three x 1.5 hr performances)
Here are some images from the performance and you can view lots more on NN Contemporary Art's Flickr site.
August 2016
'HOUSE' [SALE]
On Saturday August 20th I will be having a House [Sale] at NN Contemporary Art  Guildhall Road, Northampton from 2- 6pm, in the Courtyard, part of their Table Top Sale.
A house sale from a past artistic self: landscapes and still lives that explore sense of place and object with self-portraits that scrutinize sense of self. (NB. Includes Pictures of Houses) ALL WORKS FOR SALE
I will also include glimpses into my artistic present and future. NO WORKS FOR SALE
April 2016
I am delighted to say that in March I was awarded an A-N Professional Development Bursary. I will be using this award to go on a veritable smorgsboard of adventures and I will document these via a blog on A-N.
Briefly however, is a list of what I will be up to:
April 2nd and 3rd –  Weekender at Arts Admin, Toynbee Studios, London. Two day workshop led by the wonderful Vlatka Horzat, entitled Unstable Spaces.
Mentoring with Morag Ballantyne and Tracey Clarke
Web, Film and Sound Editing Training with James Steventon.
June – Attendance at Events for the London Arts, Health and Wellbeing Week.
August – Set Design at Central St Martin'